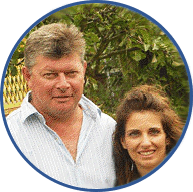 Gill and Michael Strange
Founders
Gill and Mike who arrived from South Africa in 1994, both manage GES Clean and we are passionate about delivering outstanding customer service.
Our management team and experienced cleaning staff ensure everyone maintains professional quality standards from planning to delivery.
Our cleaning services range from regular weekly domestic cleaning and end of tenancy property cleaning to office cleaning services and even an ironing service.
Recently had your property renovated? Before you move back in, allow us to ensure your property is completely dust free and any paint or plaster residue is removed and your house is cleaned from top to bottom before you come home!
All of our cleaning services can be tailored to suit your specific needs. Here at GES Clean we strive to deliver a high quality cleaning service at an affordable price. All cleaning materials and equipment are included in the price. Contact us to enquire about how we can help you today.
Whether you require help with regular domestic cleaning or one off specialist cleans, you can rely on GES Clean to deliver a professional and friendly service.
We are fully insured against accidental losses and damages. For full details, please get in touch. We will be happy to send you our insurance and cover details.