If you are searching for the best deep cleaning company in Oxshott, Stoke d'Abernon, or Fairmile, the team at GES Clean can help. Our cleaners offer competitively priced, thorough, and fast deep cleaning and spring cleaning in the local areas and have years of experience working in both residential and commercial properties. Whether you are tired of living in dust in your home and want a proper spring clean or you need specialist coronavirus deep cleaning in commercial premises, we are the cleaners to call.
All types of cleaning, especially spring cleans, can take a lot of time and effort to complete on your own. Why not look for a specialist cleaning company to help? Our team of professional cleaners is passionate about providing thorough cleaning that ticks all the boxes. It's worth noting that spring cleaning and deep cleaning are more than a quick once-over. We will complete all those hard cleaning tasks from removing tough stains to virucidal cleaning.

Our cleaning team is available seven days a week, so we can always work around your schedule. We are fully insured for your peace of mind and also have keyholder insurance, so you do not need to be there when we clean. We work inside all properties from small studios to large mansions and everything in between. No job is too big or small.
We are proud of our reputation for excellence. For more info about our work, please call us now on 020 8393 5506.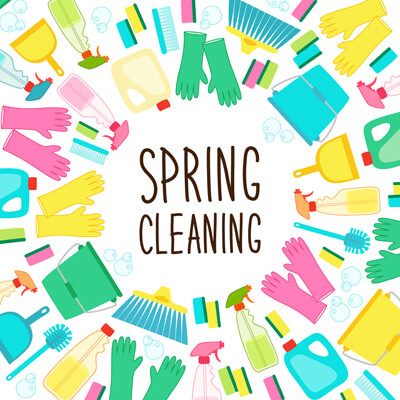 Why choose our professional cleaners near Stoke d'Abernon for one-off deep cleans?
What is deep cleaning or one-off cleaning? As you might expect, this is a service that cleans on a one-off basis. However, many of our clients choose this service before they start regular domestic cleaning, as it will bring the property to up a certain standard that our cleaners will be able to maintain.
Here are just a few reasons to choose our domestic cleaners for the job:
Our professional cleaners provide a whole host of cleaning services, including ad-hoc spring cleaning, one-off deep cleans, coronavirus cleaning, carpet cleaning, end of tenancy cleaning, and more,
All cleaning is always tailored to your requirements and we can create a customised task list so every part of the property is cleaned as you wish. Our deep cleaning ensures your home is cleaned from floor to ceiling.
With our one-off cleaning, we guarantee sparkle cleans, where your property will be left looking immaculate.
We provide fast and easy online quotes and our prices are always very competitive.
We are a trusted cleaning company and rank highly on review sites – see our testimonials on Checkatrade
The benefits of KT10 spring cleaning
Spring cleaning and deep cleaning in Oxshott provides a wide range of benefits.
Boosts health: A good clean will remove dirt, dust, and mould that can result in allergies and health issues. Rather than clean around furniture, for example, we will get underneath it to banish dirt and dust.
Decreases stress: Having a clean and tidy property can help you feel calmer and more organised. This can reduce stress, boost productivity, and improve sleep.
Stops illness: Our deep cleaning will thoroughly sanitise areas and remove bacteria and viruses to help you avoid illnesses and minimise the spread of germs.
Request a callback from our spring cleaning team
Coronavirus cleaning in Oxshott
Alongside all deep cleaning, we also provide advanced coronavirus cleaning for residential and commercial properties in Oxshott. This specialist service uses virucidal cleaning agents and special equipment, such as fogging machines to ensure that your property is cleaned and no part is missed.
Whether there has been an outbreak where you work and you need an office deep cleaned before staff return or you would like your home cleaned due to Covid-19, our cleaning will eliminate viruses and bacteria that live on surfaces. Our cleaning will pay particular attention to touchpoints, such as door handles, switches, taps, etc.
For deep cleaning prices in Oxshott, call our domestic cleaners and commercial cleaners now
For more details about spring cleaning or virucidal cleaning in Oxshott, call us now 020 8393 5506 or email info@gesclean.co.uk and we will get back to you.